This blog entry is a special guest feature from Penny Ashton, a multi-disciplinary performer known for her musicals lampooning literary classics. As you'll read, Penny has plenty of experience touring New Zealand and the globe so we asked her if she has any thoughts to share about the impacts Covid 19 had on touring as an independent artist. Thanks to Penny for sharing her thoughts with us and doing so in her classic stupendous fashion.
---
A Tale of Many Tours
By Penny Ashton
Of the over 1000 solo shows I have performed, one of the more memorable was to 17 people at an RSA in Kerikeri in 2010. I was selling merch at the end of my R18 show, which was about the history of the global sex industry when out of nowhere a man asked; "Do you sign testicles?" Without skipping a beat I jokingly said "sure, for $50" to which he replied, "Well for me that's $25 coz I've only got one!". It's moments like this, along with the time a  man in a wheelchair in Oamaru took me for a ride around the stage (with full consent of course), that makes touring Aotearoa a bloody treat.
Yes, all the international touring I have done has been amazing. Whether that's playing to a sold-out season of Promise and Promiscuity in Edinburgh, or sliding down a wall crying that literally, no one came to my 11 pm poetry show in Edinburgh, or nearly forgetting my early show in Adelaide because my brain stopped functioning above 45 degrees, to having Whose Line is it Anyway legend Colin Mochrie see my show in Toronto.
All of these experiences have shaped who I am. Some were awful, some were glorious, but it all moulded my squishy bits into this seasoned show off with a fondness for jazz hands and Vancouver cinnamon buns.
BUT through all of this, I have also always toured around my beautiful home.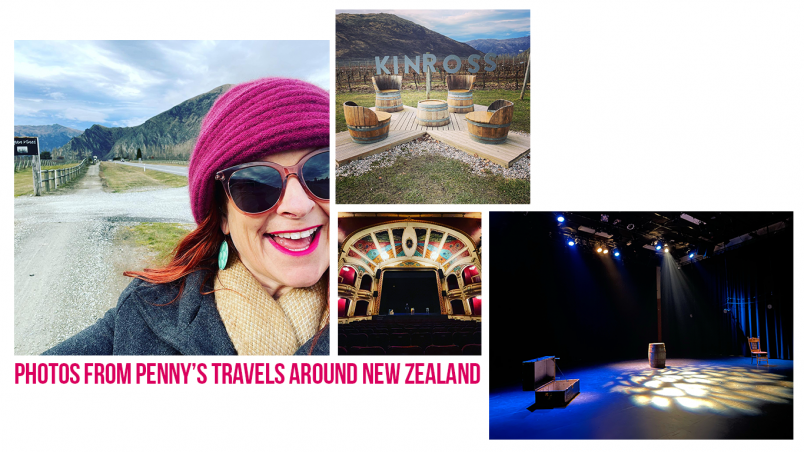 As a youngster, I couldn't wait to get out of NZ. I stupidly thought it was dull and boring AF so at 21 I packed my bags and headed to live in THE HOME OF CULTURE; London. My first shock was how bad the coffee was, and then I headed to the RSC to see a play, preparing for virtuosity but... it was bad. SO bad, shit. Boring. Tedious. Dull. Which made me realise nowhere has the patent on brilliance. At that moment the cultural cringe which was bred into me in the '80s started to crack and out of its chrysalis emerged a proud Kiwi troubadour. So when I returned to NZ in 1998 and moved to Auckland, I realised I wanted to explore Aotearoa properly.
And since then thanks to the ARTS I toured every NZ nook and cranny. From Taipa Bay to Upper Hutt to Stewart Island and everywhere in between. (Except Timaru, what's up Timaru?) Along the way I meet salt of the earth Kiwis who are bringing culture to their communities, and I happily rub up against the bonkers visual splendour that is that sexy minx called New Zealand.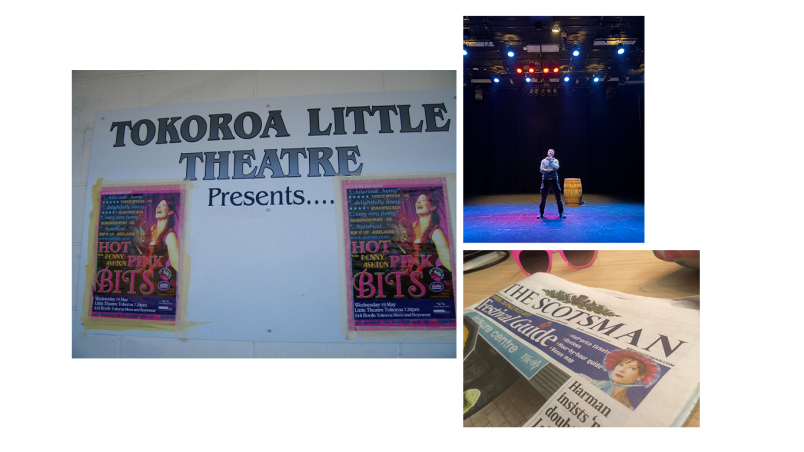 Pictured above: More shots from Penny's travels around NZ and the World
So to be marooned on our virtually covid free isle has been a blessing for me. I realise we are beyond lucky to be here, that we have a government and a populace that has pulled together in the name of science and ensured our way of life, though very much altered, hasn't seismically shifted. And it has meant I can keep doing what I love most; cracking smiles all over the country and leaving happy endings wherever I go.
I have so many friends the world over who have been unable to work. I have been inspired by how their art peeps through; backyard concerts, virtual performances, all like green shoots of nature poking through the pavement that is COVID. But it also makes me thank the goddess, Bette Midler, every night that I can still be who I am. A performer. Apparently, I need applause like I need oxygen.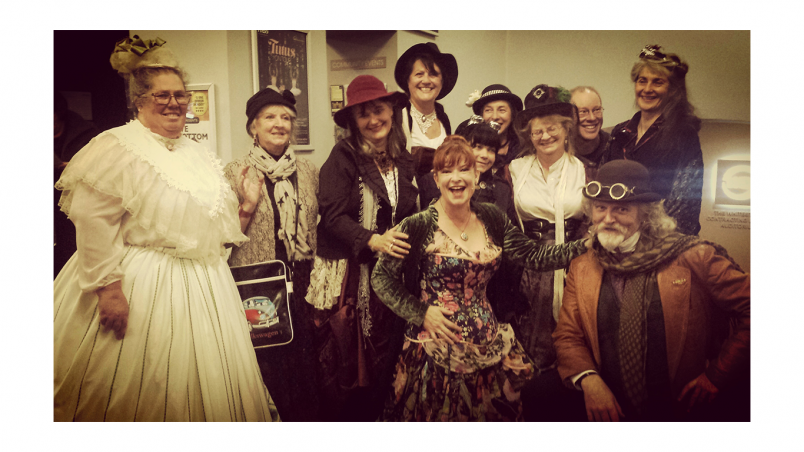 Pictured above: Penny poses with a group of steampunkers from Oamaru
So in 2021, I will be hitting 35-ish towns through Kiwiland with four different shows. And am very excited to be back to the Lofty Heights of Q Theatre with my Dickens show this September.
If you saw Promise and Promiscuity this is similar format BUT with more pox, prostitution and threats of child murder. Charles Dickens was not subtle, and neither am I! Look out for a LOT of puns, me having a fist fight with myself, ghosts, love songs, terrible Scottish accents and an appalling stand up comedian called Willy Twist.  It's a rollicking musical tale through 15 gin soaked characters and a bloody good time.
See you at the Loft!
Click here to learn more and book for Olive Copperbottom.
---