Meremere is a powerful and engaging autobiographical work in response to Rodney Bell's extraordinary life, and the series of events that have been incredibly unique for one individual to experience in a lifetime.
A critically acclaimed dancer and performer, Bell is internationally renowned for his physically integrated performance and has been dancing professionally since 1994 when he began as a founding member of Touch Compass Dance Trust.
Bell relocated to California in 2007 to join AXIS Dance Company as a principal dancer, touring to 32 states until 2012. Bell faced many challenges after finishing with AXIS, before his return to New Zealand, including a period of homelessness on the streets of San Francisco; a life-changing experience that inspired the creation of Meremere.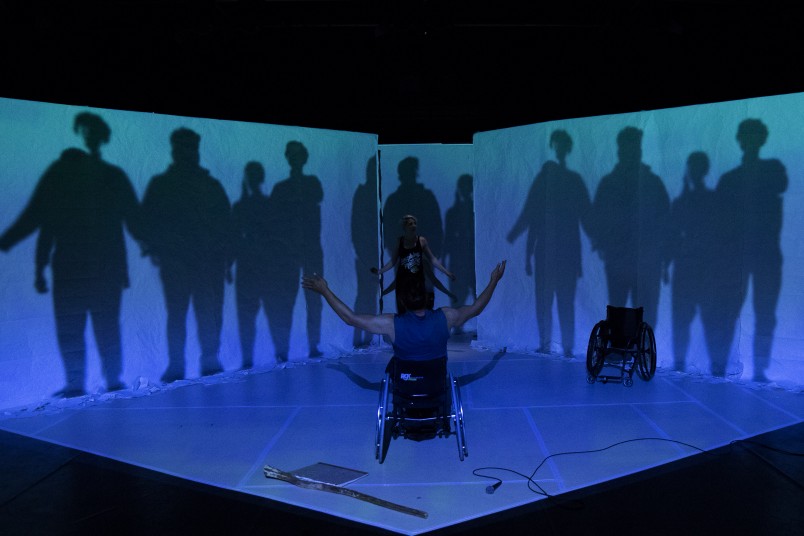 Bell and Malia Johnston danced together between 1999-2003 and Rodney has worked closely with Johnston since his return to Aotearoa. Johnston has a 20-year background in choreography and performance direction, she has collaborated with an incredibly diverse range of performers and arts organisations, creating new work for both the national and international stage. Johnston is notable for her many years of working on the World of Wearable Art Awards show.
I carved a Meremere for my cousins 40th out of black maire. It took a long time.   This hardwood was on a journey of transformation.  Once a tree doing what it knows, now in the hands of someone making it into something else.  I noticed the shavings. I wanted to stop as my own memories of loss collided with the falling shavings … so came the stories for Meremere.  Now, after this intense year, Meremere is back in the theatre, a precious place where I can share these stories and exchange energy with you.  
I am honoured that I and the team from Movement of the Human are once again able to do this.
Kia Kaha Koutou 
Rodney Bell
---
Click here to book tickets to Meremere