PRE-COLONIAL HISTORY OF THE LAND
The valley that Queen Street was built on was historically known for the local stream; Te Wai Horotiu (The water of Horotiu). It ran down from the ridge that runs along Karangahape Road towards the sea and still flows beneath Queen St to this day.
Horotiu is also the name of the legendary taniwha (guardian spirit), which was believed to live in the old stream. Te Wai Horotiu was important to local iwi, providing food, bathing, ceremonial and cleansing resources, and papakāigna (settlements) were located along the length of the stream.
THE NEW THEATRE INITIATIVE
In 1996 as Auckland's Watershed Theatre closed to make way for the America's Cup yacht race. Back up at the top of Te Wai Horotiu, one of the first conversations about Q was sparked over coffee at Verona on Karangahape Road. In 1998 Auckland City Council sought out a design brief for a new theatre, but wisely believed that rather than owning or running the venue outright, that it should be industry-led and run. A group of key performing arts practitioners and supporters formed the New Theatre Initiative (NTi), helping to identify several potential sites in the city, including 305 Queen Street. The New Theatre Initiative included a former mayor, Governor-General Dame Cath Tizard, Roger Hall, Lucy Lawless and our long standing patrons Michael Hurst and Jennifer Ward-Lealand.
HOW THE BUILDING CAME TO BE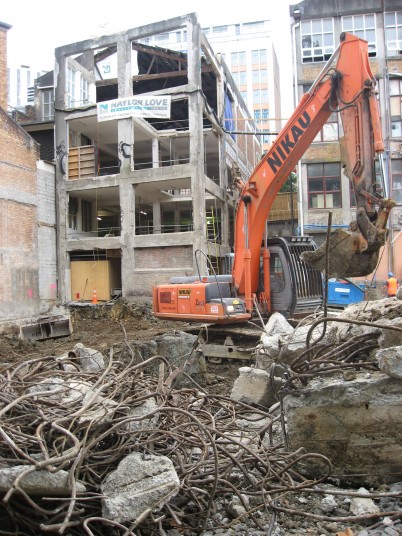 A council report from the funding stages said it would be owned and operated by the theatre community rather than being a "hall for hire" and as a team we are so proud to be the kaitiaki of this space.
The building that we are now standing in was built on the old fleet services garage behind the town hall, the old Citizen's Advice Bureau and the James Wallace Gallery. We pay tribute to the many helping hands that have made this dream become a tangible reality. We are talking not just about the first concrete being laid, the auditorium walls being built, or the seats being installed, but about the conversations, the ideas, the voluntary time, the generous donations, and the commitment that so many people bring to Q. We are talking about its inspiring program, the performances and passion, and most importantly the audiences that bring Q to life.