"We love theatre and we have always loved the experience provided by adaptable theatre spaces - the surprise, the new perspectives and the creativity generated by being able to create an environment to suit the needs of the production. We first worked in a theatre of this kind at Theatre Corporate, and the intimacy and power we were able to bring to our work had a profound effect on audiences and performers alike.
From Theatre Corporate in the 1980s through the Watershed Theatre in the 1990s, many of us in the industry have striven for a purpose built, adaptable, user-friendly space that we can be truly proud of; a venue that supports the artist in their creativity, that brings respect and value to the performing arts and that serves as a great meeting place for people who enjoy live performance, or who may be experiencing it for the first time. This is it. We are proud and delighted to be associated with Q - to speak for it, stand by it and support it as we move into this new decade and onwards"
- Michael and Jennifer
Michael Hurst, ONZM - 

Q Theatre Patron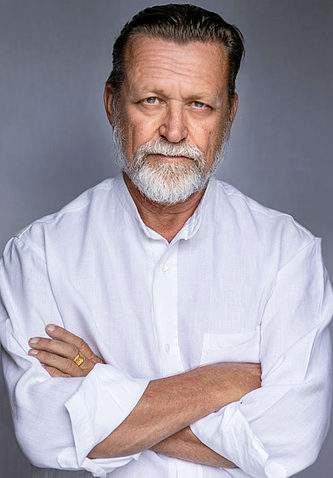 Michael began his acting career in 1976 with the Court Theatre in Christchurch. He moved to Auckland in 1979 and became a member of the resident acting company of Theatre Corporate. He has since worked with all of the major theatre companies in New Zealand, and the Melbourne and Sydney Theatre companies, as well as having a successful career in both TV and film. Michael is regarded as one of New Zealand's leading theatre directors, with particular recognition for his work with Shakespeare. He has also directed several feature films and recently completed work as principal director for US drama, Spartacus. Michael is an Officer of the New Zealand Order of Merit, a New Zealand Arts Laureate and a proud member of Actors' Equity.
Jennifer Ward-Lealand Te Atamira, CNZM - 

Q Theatre Patron
Since training at Auckland's influential Theatre Corporate, Jennifer has worked extensively in theatre, film, television, musical and radio for over 37 years. Jennifer was a founding board member of the Watershed Theatre and a co-founder of The Actors' Program. She is President of Equity New Zealand, Patron of Q Theatre, and serves as a trust board member of Actors Benevolent Fund. In the 2007 New Year's Honours List, she was named an Officer of the New Zealand Order of Merit for services to theatre and the community. In 2019 New Year's Honours List, she was named a Companion of the New Zealand Order of Merit for services to theatre, film and television. She also won the 2020 New Zealander of the Year Award being recognised for her dedication to performing arts and her commitment and passion for te reo Māori. Her stage work includes Twelfth Night, August: Osage County, Lysistrata and Mrs Warren's Profession for ATC. The Goat, Brel (Metro Magazine's #1 Cultural Experience 2012) and The Book of Everything (Best Ensemble & Excellence Awards, Auckland Theatre Awards 2015) for Silo Theatre. She tours her Marlene Dietrich Cabaret, Falling in Love Again, throughout New Zealand and Australia. Theatre directing credits include. Jacques Brel is Alive and Well and Living in Paris, The Last Five Years, Hudson and Halls (Best Production Wellington Theatre Awards 2016), Super Hugh Man for the Auckland Live Cabaret Season, rehearsal directing the National Tour of That Bloody Woman and Madame Butterfly for Festival Opera. Jennifer's film work includes The Footstep Man, Desperate Remedies, The Ugly, Fracture and new NZ feature film, Vermilion. Television and web series include Full Frontal, Xena: Warrior Princess, Hercules: The Legendary Journeys, Auckland Daze, The Almighty Johnsons, Awkward Love, High Rd, Friday Night Bites, The Ring Inz II and Dirty Laundry. Jennifer has been a keen student of te reo Maori since 2008. In 2017, she was gifted the name Te Atamira (The Stage) by Sir Timoti Karetu and Te Wharehuia Milroy.