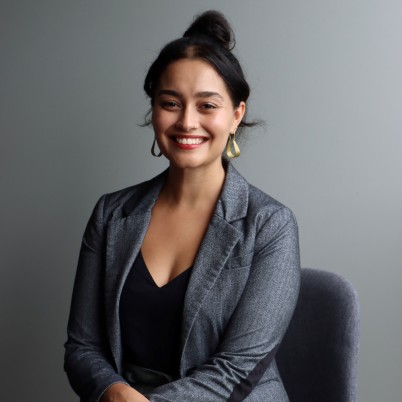 We couldn't be more excited to share the news of a big step in a new direction for Q Theatre, and a move that helps us to commit to a long future of uplifting the stories of Tāmaki Makaurau. We are thrilled to announce the appointment of Ashley M. David as Q Theatre's very first Development Manager | Kaiwhakahaere Whakapoapoa.
Ashley brings a wealth of experience in development and marketing, both locally in Tāmaki Makaurau and internationally. She has held various positions across the arts sector such as the Marketing and Development Manager of The New Zealand Dance Company; the Head of Marketing & Communications at Te Ahurei Toi o Tāmaki | Auckland Arts Festival; and roles in fundraising, social media marketing, and dance programming at The John F. Kennedy Center for the Performing Arts in Washington, D.C. Her dedication to the arts and her passion for dance have been evident throughout her career including her most recent stint volunteering several months within arts, culture, and dance in her ethnic homeland of Armenia.
"I'm thrilled to officially join the Q whānau! After working with or near the amazing folks who make it happen here through my roles at other organisations, it only feels fitting to now be a part of this incredible team. I know firsthand the important space Q holds, and the place it provides for our artists. Securing its future is no small feat, but I'm ready to get to work and play my part in support of our arts community." 
Fundraising is a significant challenge in today's uncertain climate, where securing funding from central and local government, rising costs, and financial challenges for both audiences and independent artists have become ever more prevalent. At Q Theatre, we are immensely grateful for the support we have received from our dedicated patrons and donors who contributed to our initial construction and continue to support us in countless ways.
We are incredibly excited to have Ashley join us, bringing her expertise to elevate our fundraising efforts. Her role as Development Manager | Kaiwhakahaere Whakapoapoa will involve engaging philanthropic donors, funding agencies, trusts and foundations, and corporate sponsors. With Ashley's guidance, we aim to forge deeper connections with our supporters and foster a thriving arts community.
Stay tuned for more updates on our fundraising initiatives and join us in welcoming Ashley as an invaluable addition to the Q Theatre whānau.