Tatiana Hotere here, the writer and performer of Skin Hunger. I feel so honoured to be bringing my show back to Q, in its new form as a solo show. We had such a lovely time as part of Summer at Q with the ensemble version of the show in February 2023. When we transformed it into a solo show to take it on tour across Aotearoa, we knew we wanted to finish our tour back at Q.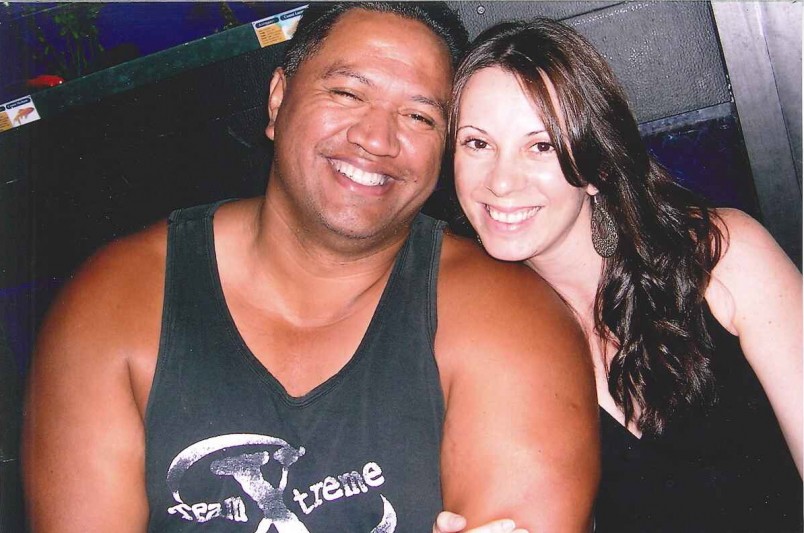 The above picture is a photo of me and my glorious husband Jason, who died of a heart attack in 2017 after 20 years of us being together, leaving behind myself and our beautiful two girls. When you lose your life partner, your everyday life and everyday goals go out the window, you are building the bike as you ride it. The first year was about simply surviving each day. I lived that first year five minutes at a time.
I kept returning to the question "How could I, as a mother, find my way through this and show my daughters a different way of grieving?" On a whim, one night just a few weeks after Jason's death, I took to Facebook (of all places!) to write a post about how I was feeling. It all came out – no filters and no pressure on how to respond from other people. Parts of that post would eventually become Skin Hunger - writing helped me process and deal with what came after Jason's death. Skin Hunger has been described as a "darkly comic survival story" "a play about grief, sex, love, dating, masturbation and religion" and "love's loss played out.".
Originally, I wrote Skin Hunger as a three-person show. I wasn't emotionally strong enough to get through it on my own, so I brought on two trusted friends to share the stage with me. But now I'm ready to stand onstage by myself and tell this story. 
Skin Hunger has been my personal permission slip to create a new life after the death of the man I love. In it, I've bared my soul - bravely, hilariously, or foolishly - in the hope that my audience may look at grief with a new perspective, and find the courage to give themselves permission to grieve their own way. And to create an imperfectly beautiful life - not in spite of their grief but because of it.
You will laugh, you will cry and you might even go home and buy your first sex toy. 
Com amor | Arohanui | with love,
Tatiana Hotere